Do I need to join a teaching union?
Many teachers and school staff will be deciding their options when subscribing to a teaching union or edu-legal support such as Edapt (or in some cases both!).
What is the decision making process a teacher makes when choosing the most appropriate support?
Surprisingly, there are no comparison websites such as GoCompare or Confused.com which collates the monthly subscription costs for different teaching roles, regional fees, satisfaction ratings and opening hours for different organisations.
How do new and existing teachers decide from a variety of options available?
From my own experience as a school teacher it seems to include the following factors:
Feedback and word of mouth from teachers in the same school or department. The 'group think' mentality of which organisation does everyone else subscribe to 

Shared values, vision and ideology of the education system. Some would argue whether teaching unions should be involved with topics such as assessment and pedagogy

Monthly and annually pricing, special offers and affiliate deals

Testimonials from existing subscribers or members

Quality of outcomes when employment is threatened or terminated. For example, when threatened with redundancy what outcome will your organisation be able to secure? 

Political or apolitical stance. Some teachers and school staff want high-quality employment support without being balloted for strike action or their fees going towards political lobbying 

Tone of voice, design aesthetics and accessibility when updating details online or raising a case and talking to a human being, with education knowledge, over the phone
Accessing high-quality and personalised support
With these range of options, teachers are becoming much more savvy when weighing up the pros and cons of different support available.
Some would say that employment support and protection shouldn't be seen as something you can compare, or decide to switch between like a phone contract or energy supplier.
However, the quality of advice, professionalism of accompaniment and overall value are certainly determining factors when we see teachers on social media deciding to switch between teaching unions and to organisations like Edapt.
As professionals, teachers have high expectations of the quality of support provided and expect accessibility via mobile, live chat and excellent customer support. They are looking for ethically conscious and environmentally friendly organisations which they can rely on should the situation arise.
Some might argue whether the majority of teachers have strong feelings towards their trade unions?
Certainly some teachers will be regional reps and engage with union organised CPD on a regular basis, whereas others will only want a limited amount of interactions with periodical magazines and email updates.
There are very few organisations where people have a really strong affinity or attachment towards, with Apple and Monzo being among just a handful with having vocal advocates and supporters.
Do teaching unions have that strong affiliation across all members, or is it just the most vocal supporters? 
Edapt has the best value subscription for full-time teachers
There are pros and cons between all the different providers to choose from and teachers are much more informed than ever to make that decision. To be a member of a particular organisation for life might be changing as teachers become more aware to the freedom of choice and quality available.
In the tables below, we've outlined some of the main differences and similarities between the options available. It should be noted that Edapt provides the best value employment support for full-time teachers.
If you are thinking about subscribing to Edapt you can subscribe here.
Call us on 0203 475 3998 and we can answer any questions you may have over the phone.
How does Edapt differ from a traditional teaching union?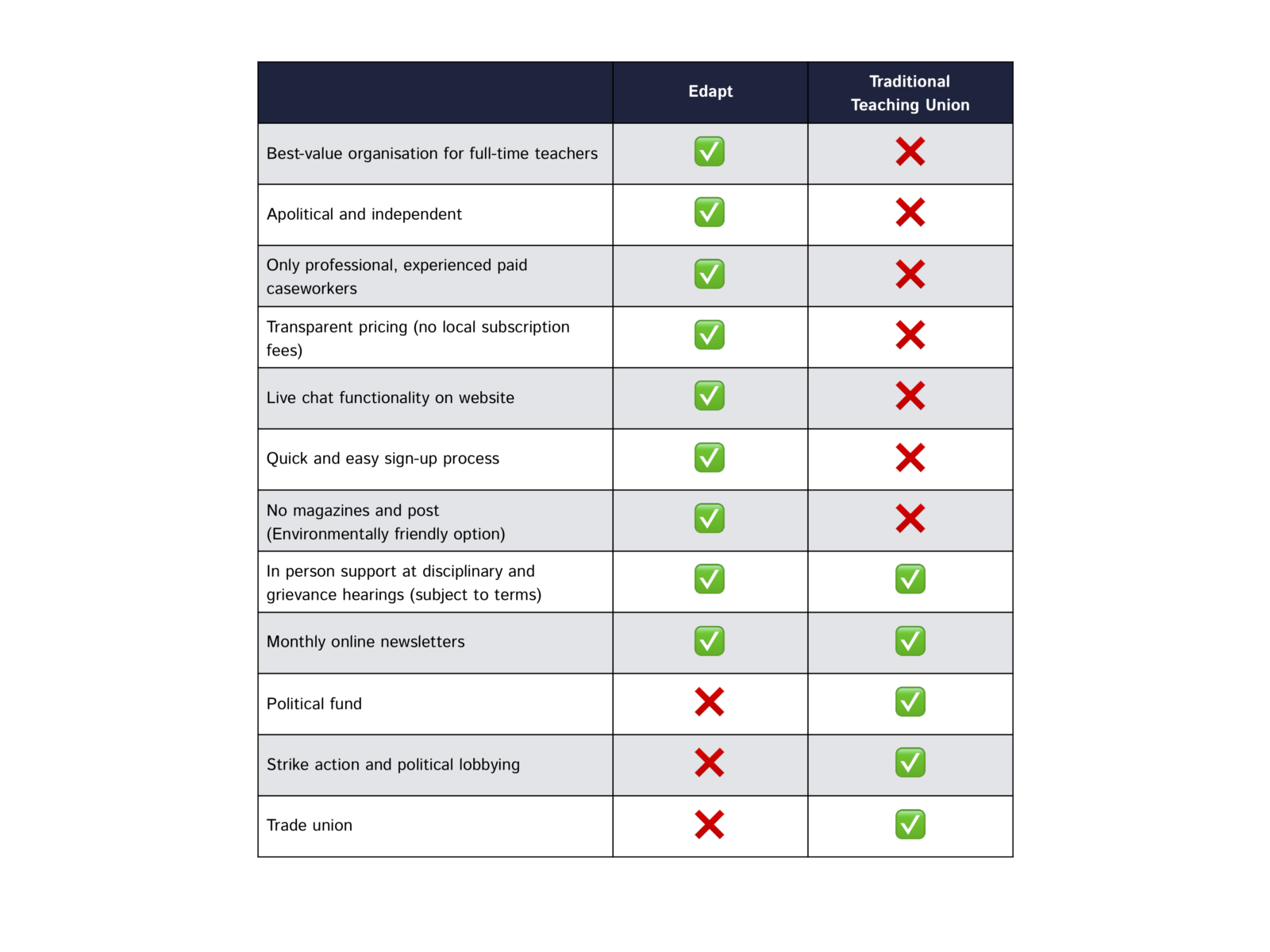 Below is a comparison table which shows how the cost of an Edapt subscription compares to a traditional teaching union membership rates on an annual basis (updated September 2023)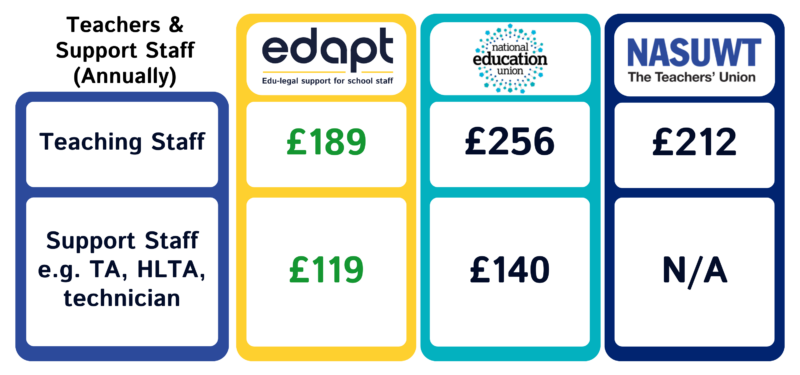 * Edapt subscription includes access to 24/7 mental health support.
**NEU membership includes both the national membership rate and a local subscription of rate of 20%. Local subscription rates vary between 5% to 20% depending on local NEU districts.
***NASUWT membership rate quoted includes contribution to political fund.